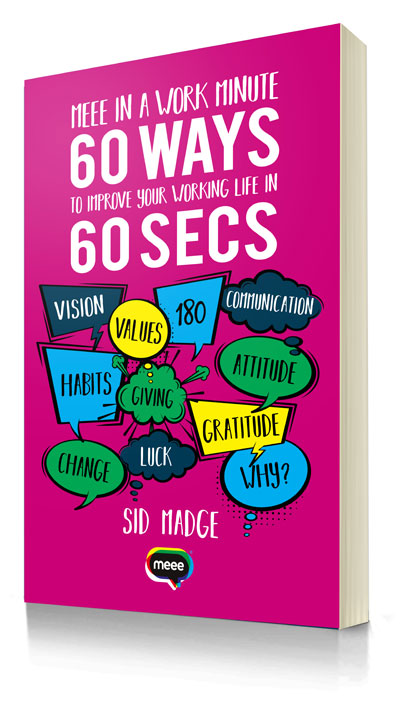 Meee in a Work Minute
Meee in a Work Minute: 60 ways to improve your working life in 60 seconds is a collection of life hacks, advice, insights, science, stories, short exercises or thought experiments and quotes that can help you improve your work life in a minute. (Meee in a Minute: 60 ways to improve your life in 60 seconds is also available.)
Sometimes, all we need is a shift in thinking, which can present us with a new mindset, point of view or even trigger a more constructive attitude. We imagine change to be an endless uphill battle, but sometimes it can happen in a minute. Meee in a Work Minute celebrates the world of work, the importance of it and the fundamental need that it's good for us. It gives us meaning and in many instances purpose. It is designed as a permanent companion - keep it with you at all times.
Dip into it when you are about to go into an important meeting but don't feel in the right frame of mind, when you have had an uncomfortable conversation with a colleague or manager, or when you need to think differently and come up with solutions or new ideas. Dip in for a boost or just a little feel good magic. I hope it helps you during the tough times and allows you to celebrate the good times.
£8 with FREE UK delivery
(Paperback, Dispatch within 2 working days)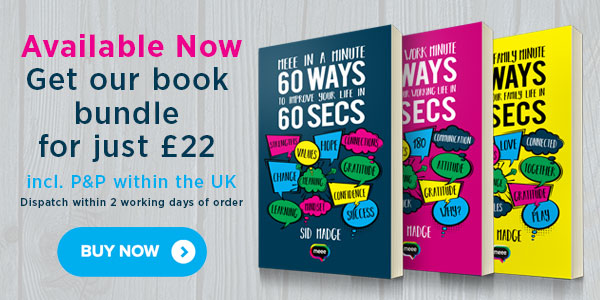 Endorsements
This book is small. So is your smartphone. And you can't stop looking at that. But when you look at this book it will make you feel better. "Yeah, I can do this." Your phone, as smart as it is, doesn't always do that. Does it?
David Hieatt Co-founder of Hiut Denim Co and The Do Lectures
There are few books that do exactly what they say on the cover, this is one of them. It's the perfect pick-me-up with quick and effective methods that will not only help, but work. It's extremely difficult not too smile or nod in agreement with the contents, no matter which page you open it up on. I love it!
Ché Donald, National Vice-Chair of the Police Federation of England & Wales
I love Sid. His optimism shines through on every page. You cannot help but be uplifted.
Chris Baréz-Brown, Founder of Upping Your Elvis