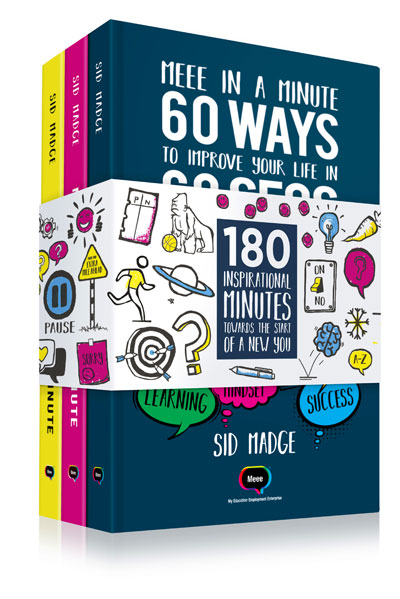 The Meee Books Bundle
180 ways to improve your life…your work life…and your family life in just 180 minutes.
This wonderful bundle of Meee goodness is all three of our books:
Meee in a Minute - our first best-selling collection of life hacks, advice, insights, science, stories, short exercises, quotes and more that can help you improve your life.
Meee in a Work Minute - our second book that celebrates the world of work, the importance of it and the fundamental need that it's good for us.
Meee in a Family Minute - our third book bursting with useful tips and strategies to appreciate, engage with, enjoy, connect and reconnect with your family.
All three of our books are yours for just £22, which includes postage and packing (UK mainland only).
What a great way to spend a minute or two changing your life!
£22 with FREE UK delivery
(Paperback, Dispatch within 2 working days)

Endorsements
Meee in a Minute
Don't underestimate this book. Small, it is. So is a splinter. And that stops you in your tracks. This will do the same. Life is complex. It asks lots of questions of you. But some very smart people have worked out the answers. You will find them in here. It's the biggest smallest book ever.
David Hieatt, Co-founder of Hiut Denim Co and The Do Lectures
Meee in a Work Minute
There are few books that do exactly what they say on the cover, this is one of them. It's the perfect pick-me-up with quick and effective methods that will not only help, but work. It's extremely difficult not too smile or nod in agreement with the contents, no matter which page you open it up on. I love it!
Ché Donald, National Vice-Chair of the Police Federation of England & Wales
Meee in a Family Minute
Absolute genius! Life changing ideas for families that take less than a minute to read - that's about the same time that it takes to make a good gin and tonic but much more valuable, long term at least!
Jo Middleton, Slummy Single Mummy