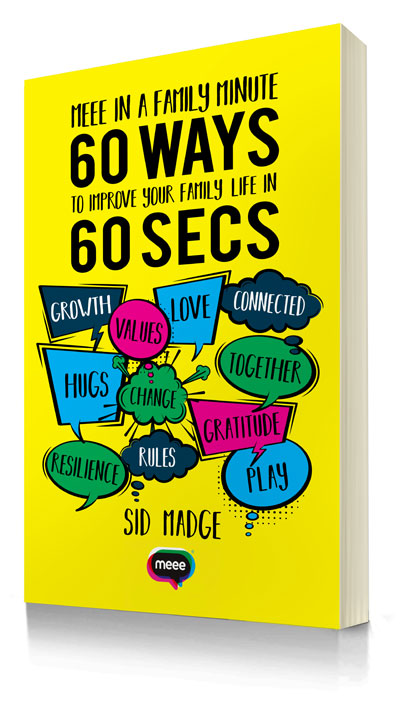 Meee in a Family Minute
Meee in a Family Minute: 60 ways to improve your family life in 60 seconds is a book bursting with useful tips and strategies to appreciate, engage with, enjoy, connect and reconnect with your family, and get back on an even keel.
There is no right or wrong way to be a family. What matters is that whatever family we have - it is our first 'tribe'.
This book is therefore designed with family in mind. Sometimes all we need is a little nudge to reframe our thinking so we can see a different perspective and access a different outcome or opportunity.
£8 with FREE UK delivery
(Paperback, Dispatch within 2 working days)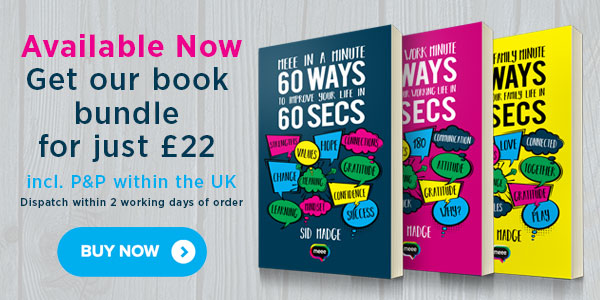 Endorsements
Absolute genius! Life changing ideas for families that take less than a minute to read - that's about the same time that it takes to make a good gin and tonic but much more valuable, long term at least!
Jo Middleton, Slummy Single Mummy
I love the concept and the impact that this book has and as promised… so much can be achieved in 'just a minute!' (which is something I'm now constantly saying around the house!) Well worth having on the bedside table 100%.
Jenny Powell, TV Presenter
Meee in a Minute has opened up a new line of communication between my 11yr old son and myself. By using the pros and cons exercise in chapter 1, we were able to reflect and move forward in a positive way in regards to his behaviour at school. Meee in a Minute has become our family go to book for life hacks.
Charlotte Crewe, Mum of 3