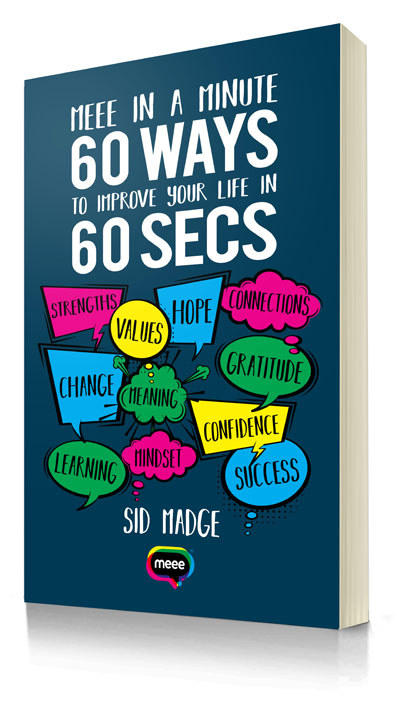 Meee in a Minute
We also have a Welsh version of this book available - find out more
Meee in a Minute: 60 ways to improve your life in 60 seconds is a book of 60 short punchy chapters that each take one-minute to read.
It is a collection of life hacks, advice, insights, science, stories, short exercises, thought experiments and quotes that can help you improve your life.
Sometimes all we need is a shift in thinking that can allow us to see a different perspective, shake off our funk and access a different option to get into positive action.
We imagine change to be an endless uphill battle but sometimes it can happen in a minute. Meee in a Minute has recently been translated for Welsh speakers to enjoy and to help us on our journey to 'make the Meee Programme available to all'.
£8 with FREE UK delivery
(Paperback, Dispatch within 2 working days)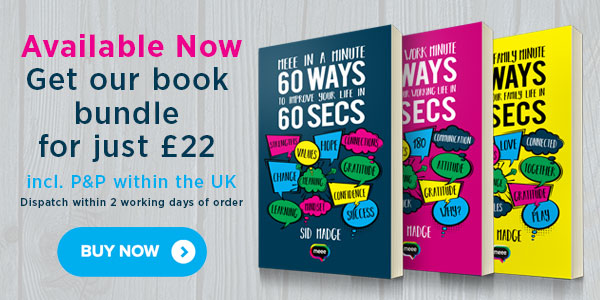 Endorsements
I love this book. It's fast, its practical, it's based on real experience and delivers real impact. A handy companion for life.
Chris Baréz-Brown Founder of Upping Your Elvis
Don't underestimate this book. Small, it is. So is a splinter. And that stops you in your tracks. This will do the same. Life is complex. It asks lots of questions of you. But some very smart people have worked out the answers. You will find them in here. It's the biggest smallest book ever.
David Hieatt Co-founder of Hiut Denim Co and The Do Lectures
This is an imaginative and valuable book which could bring benefit to many more readers than just its target audience. Highly recommended!
Professor A.C. Grayling CBE Philosopher and Author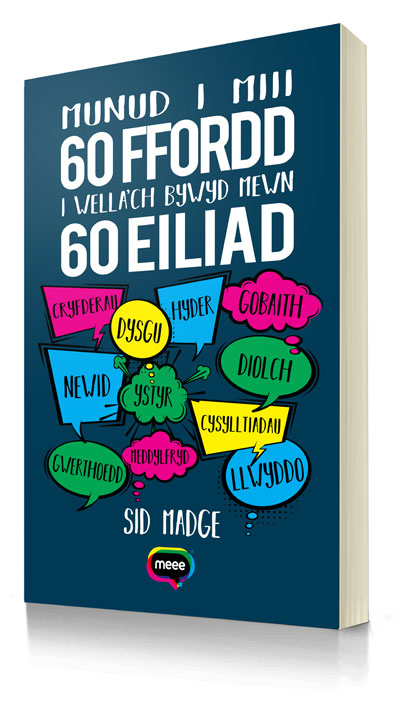 Fersiwn Gymraeg (Welsh Version)
Wedi eich llethu? Ydych chi'n gwneud yr un pethau dro ar ôl tro, ac yn cael yr un canlyniadau? Oes angen newid arnoch chi?
Dim ond munud sydd ei angen! Mae'r llyfr Munud I Miii - 60 ffordd i wella'ch bywyd mewn 60 eiliad yn cynnwys 60 o benodau byr, bachog y gellir eu darllen mewn munud. Mae'n gasgliad o awgrymiadau, cynghorion, ffyrdd newydd o edrych ar bethau, gwyddoniaeth, straeon, ymarferion neu arbrofion meddwl byr a dyfyniadau a all eich helpu i wella'ch bywyd mewn munud.
Weithiau, yr unig beth sydd ei angen arnom yw newid ffordd o feddwl er mwyn i ni allu gweld pethau o safbwynt gwahanol, cael gwared o'n hofnau a chanfod ffordd wahanol o wneud pethau er mwyn gweithredu'n gadarnhaol.
Rydym yn dychmygu bod newid yn frwydr galed ddi-ben-draw, ond weithiau, gall ddigwydd mewn munud.
£8 Gyda danfon AM DDIM
(Clawr Meddal, Anfon o fewn 2 ddiwrnod gwaith i'w ryddhau)

Diweddariadau
Dyma lyfr gwerthfawr, llawn dychymyg a allai fod o fudd i lawer o ddarllenwyr y tu hwnt i'w gynulleidfa darged. Byddwn yn ei argymell yn gryf!
Yr Athro A. C. Grayling CBE, Athronydd ac Awdur
Rwyf wrth fy modd â'r llyfr hwn. Mae'n gyflym, mae'n ymarferol, mae'n seiliedig ar brofiad go iawn ac yn cael effaith go iawn. Cydymaith defnyddiol mewn bywyd.
Chris Baréz-Brown, Sylfaenydd Upping Your Elvis
Peidiwch â diystyru gwerth y llyfr hwn. Dyma'r llyfr lleiaf mwyaf erioed.
David Hieatt, Cyd-sylfaenydd Hiut Denim Co a The Do Lectures